Register for 2021 China SIF Week Side Events | The Green Wave in Fixed Income: The Role of Instituti
Register for 2021 China SIF Week Side Events | The Green Wave in Fixed Income: The Role of Instituti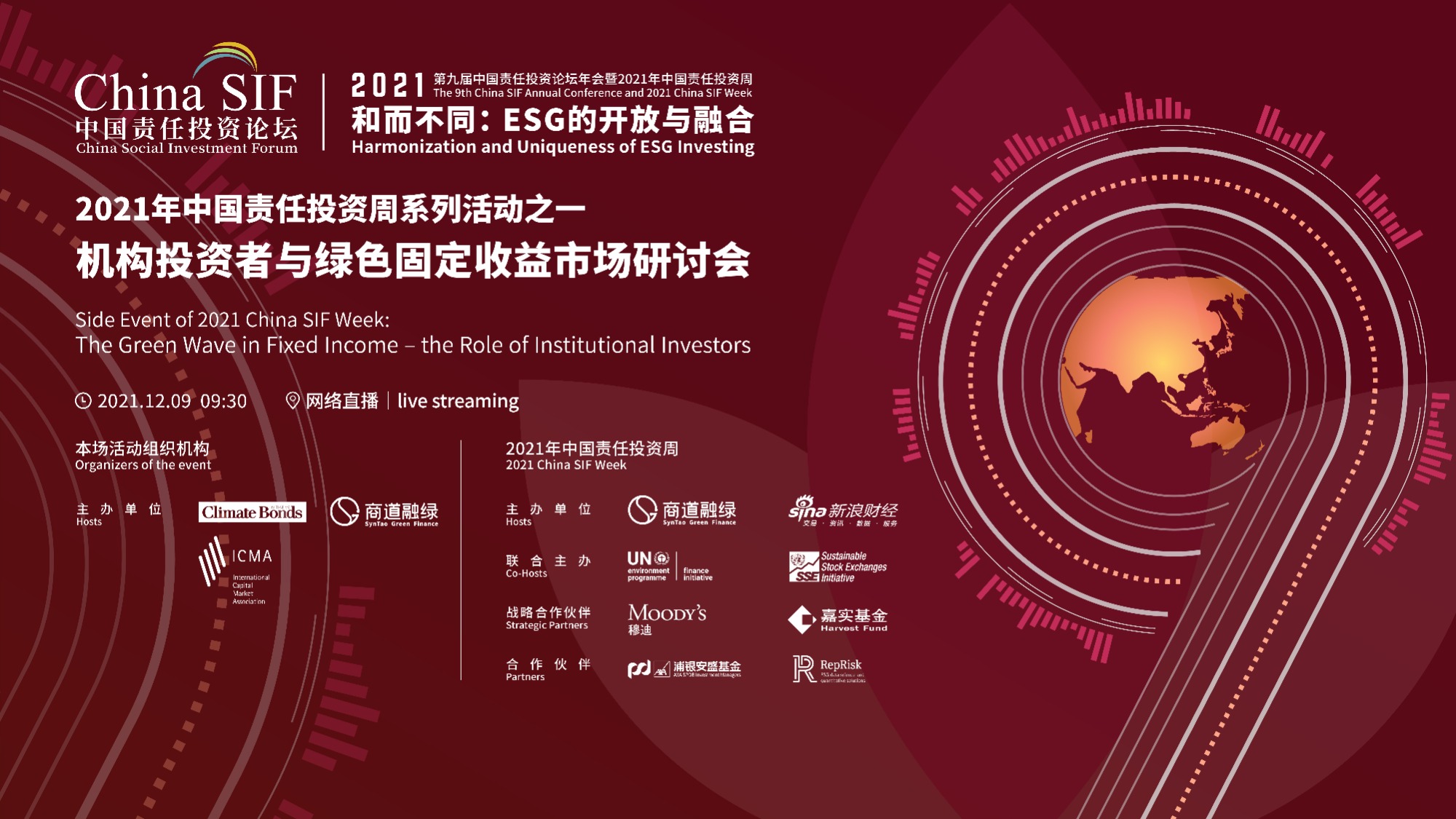 Jointly organized by SynTao Green Finance, CBI, ICMA, and PRI, this half-day capacity building workshop is designed to promote knowledge-sharing across labeled bond market in China and foster the growth of China-based green institutional investors in fixed income.
Representatives from leading research institutions, regulators and market players will provide training to China-based institutional investors on the latest development and trend in the labelled bond market, and discuss taxonomy-based investment screening and disclosure.
Potential topics to be covered include the following:
1. The latest developments in the global/Chinese labelled bond market
2. Investor appetite and preference in the labelled fixed-income markets - views from China and Europe
3. The "Common Ground Taxonomy" between China and the EU - what's in the standard and the implications for the sustainable finance field
4. Usability - how can investors make use of the green/sustainable taxonomies?
5. Transition finance and transition bond - investigating the state of play


China SIF Week 2021 Side Events
The Green Wave in Fixed Income
The Role of Institutional Investors
Time: Dec. 9th 2021 09:30 
Format: Live streaming
Theme: The Green Wave in Fixed Income – the Role of Institutional Investors
Co-Hosts: Climate Bonds Initiative
SynTao Green Finance
ICMA Green Bond Principles and
Social Bond Principles
Support: UK PACT

Draft Agenda

09:30-10:50
Presentation
YANG Jianjian, Head of the International Cooperation Department of NAFMII
Sean KIDNEY, Co-founder and CEO, CBI
ZHANG Rui, Managing Director, SynTao Green Finance
Ricco ZHANG, Senior Director, ICMA Asia Pasific

11:00-12:00
Panel Discussion:Foster the growth of China's green fixed income market: the role of institutional investors
Moderator:
Wenhong XIE, Head of China, CBI
Panelists:
Daniel WISEMAN, Head of Asia-Pacific Policy, PRI
Eric NIETSCH, Head of ESG, Aisa, Manulife Investment Management
WANG Bolu, Green Finance Team Lead at Tsinghua National Institute of Financial Research (NIFR)
WANG Wenjun, Head of Green Bond Underwriting, Investment Banking Department, China Construction Bank
ZHOU Jishen, Managing Director of Fixed Income Department, CICC