Register for 2021 China SIF Side Events | Forest Sustainability and Supply Chain Finance Forum
Register for 2021 China SIF Side Events | Forest Sustainability and Supply Chain Finance Forum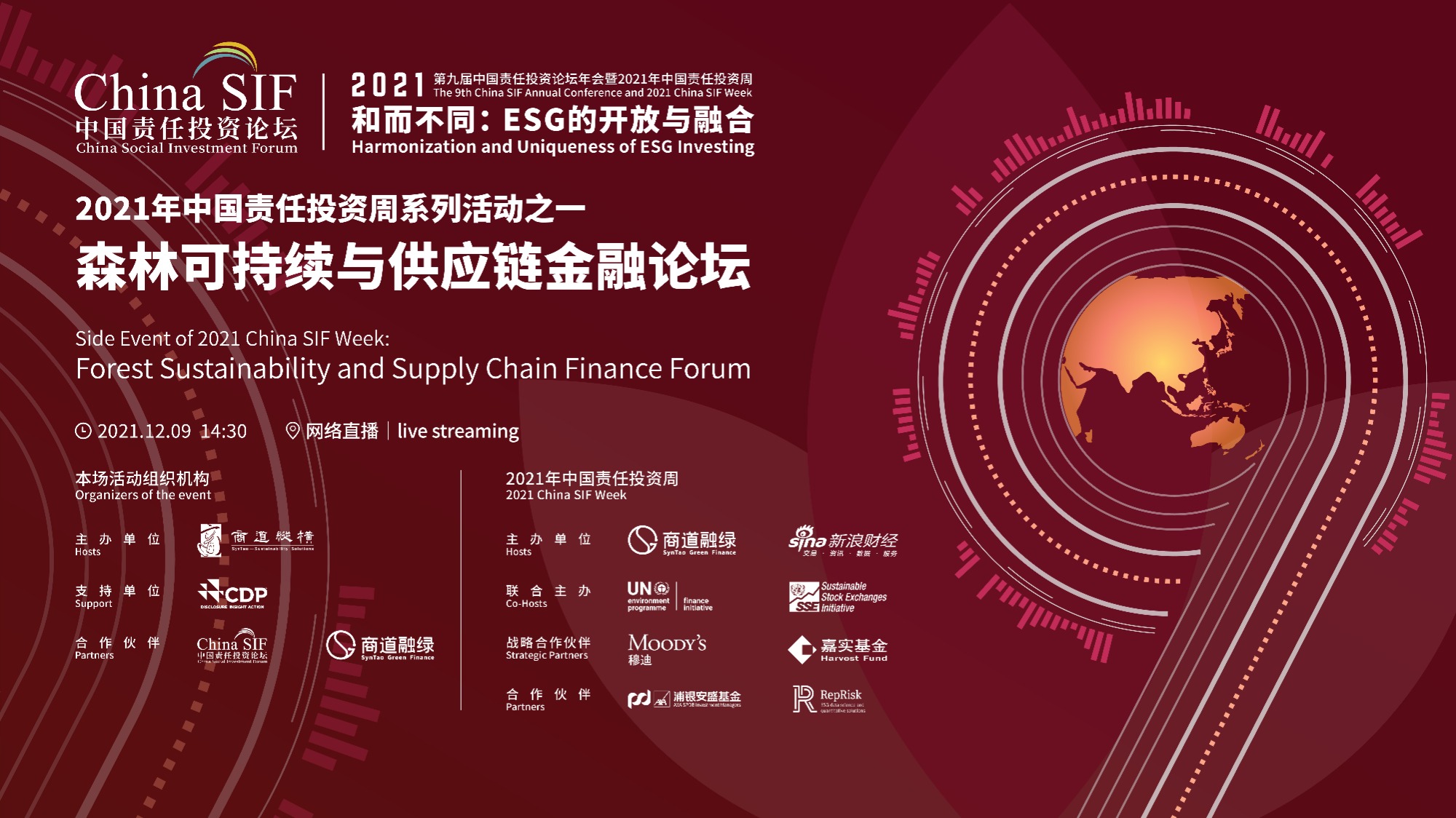 Large-scale deforestation has led to climate change and biodiversity loss. Soft commodities (including unsustainable palm oil, soybean, beef, and timber products) production is one of the important reasons driving global deforestation. For the purpose to reduce the risk and trend of deforestation, the concept of building a sustainable forest product supply chain and sustainable consumption of forest products has gained more attention among the stakeholders. At the 26th Conference of the Parties of the UN Framework Convention on Climate Change (COP26) World Leaders Summit held in Glasgow this November, more than 140 countries, including China, Russia, Brazil, Colombia, Indonesia among others, have jointly signed the Glasgow Leaders' Declaration on Forest and Land Use, promising to stop deforestation and re*verse land degradation by 2030. During the COP26, China and the USA have also issued a joint declaration to support the elimination of global illegal deforestation.
The Forest Sustainability and Supply Chain Finance Side Event at the 9th China SIF Forum is focusing on the sustainable production and consumption of forest products. It will combine the latest trends of ESG development, with the latest trends in sustainable forest management in China. The event will invite multi-stakeholders to share their thoughts and ideas. The event will also discuss how to improve industry awareness and capabilities of forest sustainability and supply chain finance issues from the perspective of sustainability standards and ratings of forest products, and multi-stakeholder engagement.
Due to COVID-19 regulations in Beijing, the meeting will be held from 2:30 to 5:00 PM on December 9, online. The event organizer SynTao and supporter CDP hereby sincerely invite you to participate!


China SIF Week 2021 Side Events
Forest Sustainability and Supply Chain Finance Forum

Time: Dec. 9th 2021 14:30   
Format: Live streaming
Theme: Forest Sustainability and Supply Chain Finance
Host: SynTao
Support: CDP
Partners: China SIF, SynTao Green Finance

Draft Agenda

14:30-14:32
Opening Remarks by SynTao

14:32-14:35
Greetings from CDP

14:35-14:45
Keynote Speech 1
Report Launch: Situational Report on the Use of Sustainable Palm Oil Products in the Commercial Real Estate Industry
ZHANG Sheng, Partner of SynTao

14:45-14:55
Keynote Speech 2
Green Finance Support Sustainable Forest Product Supply Chain Management

14:55-15:25
Panel Discussion 1
Sustainable Standards on Forest Products
Moderator:
YU Xin, Priority Project Coordinator - Sustainable Food Consumption and Supply Chain, WWF China
Guest:
WAN Xusheng, Director of South-North Institute for Sustainable Development
Joshua WICKERHAM, Manager at ISEAL Alliance
Kamal Prakash SETH, Global Deputy Director - Market Transformation, RSPO

15:25-15:30
Introduction of the Forest Sustainability Campaign Website

15:30-16:00
Panel Discussion 2
Multi-Stakeholders Engagement to Promote Sustainable Forest Products
Joko ARIF, Indonesian Palm Oil Expert
QIU Aimiao, Director of Public and Government Affairs, Tianjin Julong Group

16:00-16:05
Closing Speech